BENEFITS OF A MOCK INTERVIEW
Posted on: September 12 2019, By : Saket Anand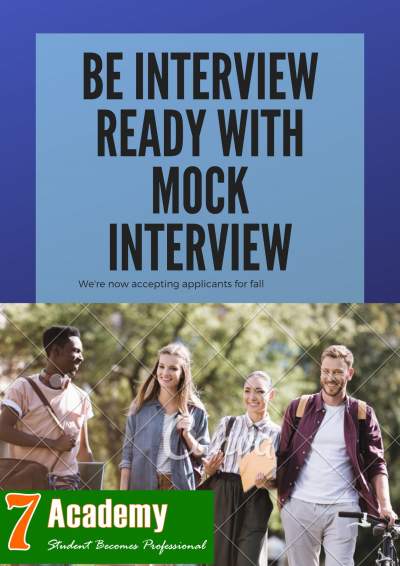 The benefits of a mock interview are immense it will benefit a student in reducing the fear of facing an interview with the help of a mentor who has faced several interviews or a career service provider or a career coach. And make a student familiar with frequently asked questions which will help them boost their confidence. Seven Academy provides
HR Training in Mumbai
and as a part of training it will help you get solution to all your interview related problems.
1.

It will help reduce the fear and stress about interviewing –
If you are not aware of the questions asked in an interview and what response you should give as the answer mock interview will help you overcome that fear or stress. Mock interviewer will help you by telling the frequent questions asked and how should you answer them in response. They will provide you the feedback whether you are up to the mark and what areas need to be worked upon.
2.

It will help you in boosting your confidence -
The one who will conduct your mock interview or the career coach will tell you about your strength in the interview which will raise your confidence and help you perform better in actual interview and making you ready to face it with a confident face.
3.

It will help you in knowing about your weakness –
A mock interview will help you in knowing about the weakness and the areas needs to be worked upon. In a real interview we don't often get to know about our weakness because not everyone provides a feedback. In this you will get the actual feedback which will help you in clearing the interview and grab the opportunity for a great job.
4.

It will help you to know about how one should behave in an interview –
A mock interview will help you know that how your body language should be there in an interview. Your facial expressions or the way of sitting all things are being considered in an interview. So during a mock interview you will get to know about these aspects which will help you work upon it.
In real world no one is perfect it's the practice that makes one perfect and here Seven Academy gives
Core HR Training in Mumbai
which will clear all your doubts regarding an interview.
So a mock interview will make one ready to face the real interview. And will help the candidate ready to go and grab the opportunity. There are many more benefits of a mock interview like it will give you confidence of public speaking
(Generalized HR Training in Navi Mumbai).
Practicing a mock interview will help you give the best interview of your life. And there should be a mock interview conducted for all students in their respective colleges which will help many of the candidates with low confidence
core hr payroll in Mumbai.
Job interviews are nerve wracking in real mock interviews will help you get your nerves calm and you feel composed.
Share this:
Comments :
Comment Not Available