Requirement of Human Resources Policies in Organization
Posted on: June 25 2018, By : Komal More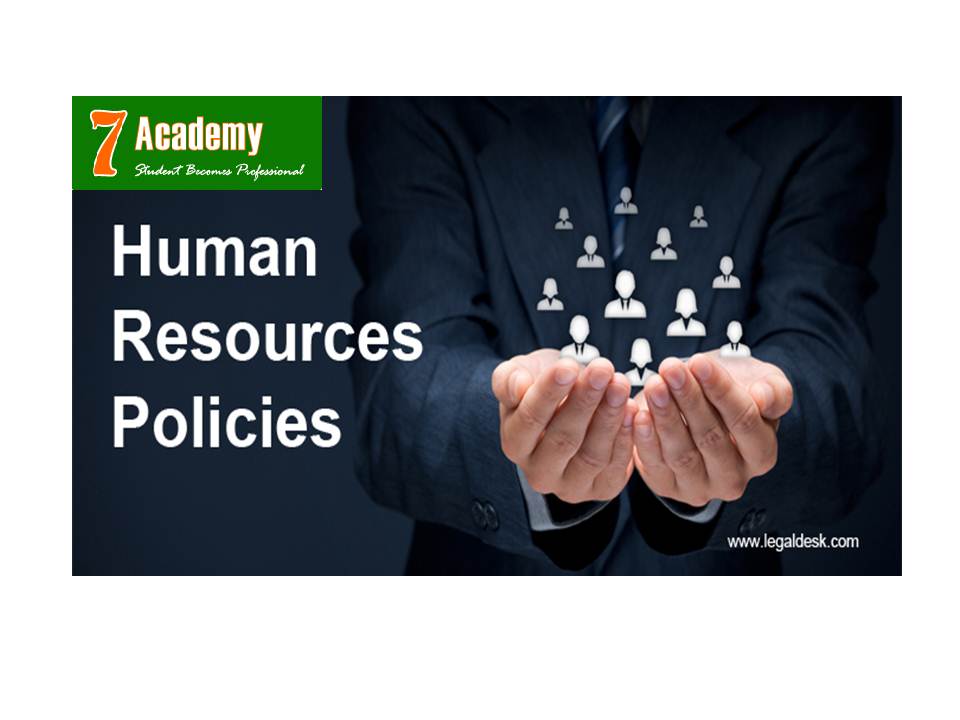 Human Resources policies
play an essential role for any organization. Policies are the rules and guidelines for the employees in workplace. These policies can relate to hiring, recruiting, rewards,
employees development
and so on. All the people in organization should know their HR polices as these policies are linked with their work and their performances. Each organization has various set of HR polices. It is helpful in building of organizational culture.
Two companies having same HR polices doesn't matter, but following HR policies by employees is important. A good written HR policy is always followed by employees because they are easy to understand. It helps to avoid misbehavior of employee and helps to know that how things are done in organization. These policies save countless time of organization in explaining the rules and regulations of organizations. It too helps in communicating management rules and business procedures. If any legal issues occur, policy helps in avoiding the legal problems.
Formulating
Human Resources
( HR Certification in Mumbai ) policy is very important. There are certain procedure to be followed for formulating of organizational polices. The process is as follows
Identify the need: The managers have to identify that in which field the policy is to be made. At the same time manager have to keep in mind the objective and demand of company while formulating policies. Checking for appropriate guidelines for policy is also needed.
Identify various alternatives and problems: Various alternatives are identified by managers for developing policies. Alternatives can be analyzed by organization working environment. The selected alternatives are used for formulation of policies.
Testing policy: Before applying policy, testing policy on trial basis. When the policies are set on trial basis various valuable suggestions are received. The suggestions can be helped in making important modification. It helps to achieve goals.
Selecting appropriate policy: after the policy is tested the selection process of policy starts. The managers select the accurate policy according to companies work environment.
Writing policy: Once the policies are tested and selected the policies are written in simple words.
Implementation of policy: The final step of HR policy procedure is to implement the policy. The half of the implementation is found during the trial period, it helps in achieving its objective. It's important that policies should be explained to all employees in organization so that the policies would be implemented well. A well discussion of policy with employees helps the best way to implement policy. If the objectives are not achieved then there was not proper implementation of the policy
A good HR policy provides a good framework to manage people in organization. It helps organization to operate on daily basis with respect to its people.
HR policy helps employee how to handle problems in workplaces. The problems like issues with coworkers, managing work within them and so on. The policy for such problems says that such problems should be approached to managers rather than directly going to HR. The other advantage of HR policies is it helps in communicating with employees, supervisors & managers. A good written human policy is mean of communication. Some formal polices are helpful to managers and supervisors for various promotion and stages in organization like hiring, selecting, promotion, rewards, decision making and many more. The companies' code of conduct is very important in internal HR policy. The outline of code of conduct is regarding individual employee's behavior towards his coworkers and seniors in organization. In many organizations it is found that an employee has open communication, but policy expectation is to follow the company code of conduct. Follow company law, respect for workplace, professionalism (dress code, absenteeism, corruption, duties and authorities) are some of the important ethics in
organization
( HR Practical Training Navi Mumbai).
It's really very hard to maintain the organization when it's expanding rapidly. Policy creation helps to maintain the stability in organization. Employee's needs companies' policy to guide them as well as they also need to know about company culture, business ethics and principles. Putting HR policy on paper is not enough
Share this:
Comments :
Comment Not Available